For Ramiro and me, Craig Kilborn was the patron saint of College. Everyone else went with Conan but at the time we didn't appreciate Conan's self-deprecating wit especially with the ladies. Kilborn seemed almost aloof, even cocky in that Han Solo kinda way, and it showed in his signature interview-ending gimmick, Five Questions.
I met Kilborn in 2004 while I was still a production assistant for ESPN Radio. He came back for one night to host SportsCenter as a part of a 25th Anniversary celebration for the network. We shook hands, had a brief conversation about show business and I even had a chance to show off my imitation of him as well.
Four days after we met, he announced he was quitting the Late Late Show. For all intensive purposes, he hasn't been heard from since.
But with college football season upon, Ramiro and I decided there was no better way to pay tribute to our greatest memories of college than to break down the college football year by liberally borrowing from our Patron Saint of College, and his greatest gimmick. This time, though, we're going use an extended remix of it.
College football...are you ready to play 15 questions? Here we go! We start with geography...
1.
Which team will have the biggest impact on their new conference

?
Ramiro
:
In Mexico we boil corn and eat it in a cup with butter and seasonings. That's what's gonna happen to Nebraska. Biggest impact? Boise State! No doubt about it.
Tray
:
Nebraska wouldn't have the biggest impact? Really? Considering that Michigan is still a train wreck from the RichRod era, Ohio State lost their starting QB and head coach, Michigan State is still regarded as an inferior to their big brother in Ann Arbor
and Iowa is too busy giving their players kidney problems, I'm taking Nebraska here.
For Boise State, the move is simply a lateral one. Of course they've made lateral moves before that worked out pretty well, but still.
2.
Who wins in a death-off: JoePa or Beano Cook?
Ramiro
:
Is this even a real question? I'm convinced JoePa has a titanium skeleton! The guy has been knocked down twice in recent memory and has been fine! Twice, Tray! Twice! The golf cart he rides in is to distract his enemies. Meanwhile, Beano Cook is gonna wonder into traffic eventually. Can he form a sentence?
Tray
: Actually, he's been injured
three
times in the last five years, dude. Not two. We know about the most recent incident where he injured his shoulder, his hip and even suffered a hairline fracture of his goddamn
pelvis
. But he had his hip replaced in 2008 after trying to demonstrate an onside kick and he had his leg broken after a Wisconsin player ran into him on the sidelines in 2006. That's three times now that Death has been knockin' in the last five years and JoePa slammed the door on Death's face each time like he was a door-to-door vacuum cleaner salesman.
I guess now that I think about it, not only would JoePa beat Beano Cook in a death-off, but at this point, he might even beat Keith Richards too. JoePa FTW.
3.
Who's your surprise team for 2011 and why
?
Ramiro
: I'm gonna go with Oklahoma. As in, it's gonna be a surprise how fast they fall from the Number 1 spot. Just watch.
Tray
: I do believe your hatred of OU is running wild right now. Seriously, do you think they're losing to Florida State? If you do, great, but just know that's about their only shot at losing possibly all year. They get Tech and A&M at home. The only game on their schedule I could see them losing is the last game of the year in Stillwater.
On the other hand, a real surprise team to me is someone who started 0-2 last year. Virginia Tech has an incredibly favorable schedule with a non-conference slate of Appalachian State, East Carolina, Marshall and Arkansas State. Their only tough road game is at Georgia Tech. If they aren't undefeated by their November 10 tilt with the Yellow Jackets then something went massively wrong in Blacksburg.
4. Who will be the biggest disappointment for 2011?
Ramiro
:
The biggest diappointment will be not getting enough Erin Andrews. Who are these jokers in programming, Tray? I mean, come on!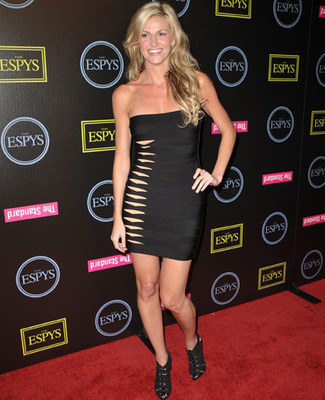 Seriously… I'm going with the Stanford Cardinal. Without Harbaugh's leadership, this ship is gonna sink faster than the Titanic. Andrew Luck, seriously, lots of love for staying in college and enjoying life, but deep down inside, we all know you should have bolted.



Tray
: We saw that one coming though. No way in Hell they were going to be as good as they were last year. Andrew Luck is nothing more than Jake Locker 2.0. Good luck with that, Luck.
That said, there's always one team that gets into the Top 10 every year and you just sorta look at it and say, "What the hell are they doing there?" This year's team is #9 Oklahoma State. They have Arizona, at A&M, at Texas, at Mizzou, at Tech and close the year against OU. They will lose at least three of those games guaranteed.
Mike Gundy may be a man, but he ain't getting through that gauntlet, and I don't care how old he is.
5.
No seriously, have you figured out why Tray's former employer keeps rolling out Beano Cook? I mean, what purpose does this guy serve other than being nostalgic for the 1940s?
Ramiro
: It's like the reverse of the Bill Cosby "Kids Say the Darndest Things". In this case, "Senile ol' Beano Says the Darndest Things"…
Tray
: I just want to know if he thinks Joe Theismann will win
two
Heismans this year. I also want to hear him count to potato during Gameday.
6.
The Longhorns will do what this season?
Ramiro
: I'm gonna stay optimistic and say we are totally capable of getting an 8-9 win season. I think that's a goal. See you at the Cotton Bowl!
Tray
: You have more confidence than I do. Take a read of this recent Cedric Golden
piece
, and tell me otherwise. Mack Brown doesn't believe in this bunch, and if he doesn't, I don't have any reason to either. I'm going lower like 6-7 wins.
And I have a bonus prediction: Case McCoy takes over the starting QB job after the OU game.
7.
Gus Johnson will be the new voice of Fox College Football on Saturday nights. How many Hail Marys will he get to call? Over/under is 2.5...
Ramiro
: Jeez… that's a tough one. I think under, 2. I can't wait to see them though. CBS, you are mildly retarded.
Tray
: I may be insane, but I'm taking the over on this one, and I have two good reasons why. The first is the
Law of Gus
. Secondly, don't you think the Pac-12 is pretty competitive? Toss Oregon aside for a second (the best of the conference) and Washington State (the worst of the conference), and what do you get? You have seven or eight teams that all match up pretty well with each other. I see a lot of games down to the wire, and if you throw in the Gus Johnson Factor, I could totally see three Hail Marys in one season. Now you'll notice the question doesn't ask if they'll be completed. I just said how many do you think you'll see.
And yes, CBS, you are retarded. I want to see a CBS Sports executive and Beano Cook have an epic spell-off. First one to potato wins.
8.
You get to go to one game this year outside of Austin and it cannot involve the Longhorns. Where are you going and why?
Ramiro
: You know, my first instinct was just to choose a game I really wanted to go to purely on the game itself. But then I started thinking that there are a lot of things to consider, like tailgating, women, and overall atmosphere. I want a quality game, great tailgating, beautiful women in tiny dresses to talk to and I would like to generally "cheer" for one team. The only team I can cheer for without throwing up all over myself would be Michigan. I hate Ohio State. But the game will probably suck … I would have chosen LSU at Oregon, but that's two Top 5 teams the first week? Although it will probably be a great game, whoever loses will be forgiven by the end of the season, negating the game itself…
I think I'm going with LSU at Alabama, Nov. 5. Probably two Top 5 teams near the end of the season with real implications, beautiful Southern women and great barbecue and beer in tailgating? I'm in heaven. Oh and I'm cheering for LSU, obviously. And I'm hoping there's some desperate screw up with the time and the Ol' Mad Hatter comes up with something brilliant.
Tray
: You will get no argument from me, but I'm going with Oregon at Stanford on November 12. I've never been to the Bay Area before and I owe your pledge brother and my ex-roommate, Domingo Guerra, a visit to the San Francisco area. Considering the fact that he's a Stanford alum (he got his Masters there), has connections and can probably get us good seats where I can drink Anchor Steam all day, this sounds like a deal.
Couple that with a potential national championship contender in Oregon, getting a chance to watch a future NFL quarterback in Stanford's Andrew Luck play plus I'm pretty certain the food won't suck and the weather will be great...I mean, that will not suck in any way, shape or form.
Maybe Stanford pulls the upset. And if they don't, I will still have awesome views of Palo Alto and an Anchor Steam in hand. I like this idea.
9.
Best looking cheerleaders (alma mater excluded)
?
Ramiro
: One step from Hollywood… I gotta go USC here. Classic California beauties? Absoluuuutely.
Tray
: The University of Florida cheerleaders would like a word with you. Actually, they want a word with me first.
10.
Best tailgating (alma mater and LSU both excluded b/c, let's face it...the Cajuns crush all in the tailgate dept)?
Ramiro
: Hard to say since I have never been, but again, I'm going with deep South. If you're taking LSU away from the table, then I will say 'bama or Ole Miss!
Tray
: The Grove in Oxford, Mississippi. I cannot argue with
this
. A 10-acre spread of beautiful women, astronomical calorie-counts and fields of booze, booze, plentiful booze. When Axl Rose sang about the Paradise City where the grass was green and the girls are pretty, I believe he spoke of this place.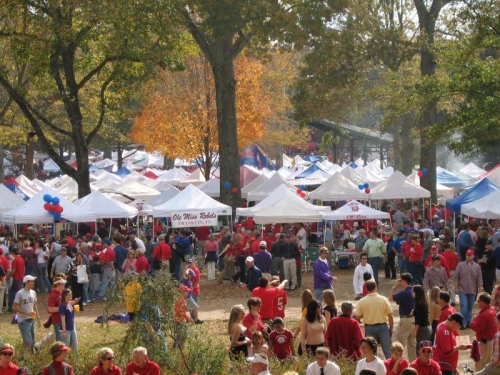 Excellent call, my friend.
11.
If you had to guess, what program would you suspect will be the next program taken down by scandal?
Ramiro
: Assuming the ones already investigated are off the table, I would have to guess LSU. Mad Hatter has that crazy look in his eyes. I'm sure something will come up.
Tray
: LSU is sorta-kinda off the table given the recent incidents of Jordan Jefferson. I will casually assume we're talking about the scandals closer to Ohio State and Miami than we are scandals that involve beating the crap out of people at Shady's in Baton Rouge.
And if we're keeping in line with scandals closer to Ohio State and Miami, it's just a matter of time before something big leaks about Oregon. Yeah, I know they had a thing-to-do this summer, but
that's nothing
. I'm talking about a massive scandal that will probably involve Phil Knight, briefcases of money, blocks of Colombian chronic and dead hookers. It'll be like Scarface with a spread offense.
12.
How much will Andrew Luck regret not going to the NFL when he had the chance?
Ramiro
: Hmmm, how much would you regret having a winning lottery ticket and exchanging it for another lottery ticket not yet scratched?
Tray
: So in other words...Jake Locker? Matt Leinert? No disagreements here.
13.
What will be the bigger mistake: The Longhorn Network or the Aggies decision to leave the Big XII as a result of the Longhorn Network?
Ramiro
: Aggies, no question… By the way, will Aggies have to change their fight song? Seriously, no one has answered this for me!
Tray
: Well, if they no longer play the Longhorns, then yes, they will have to change it. Honestly, leaving the Big XII conference will be the single-greatest thing that Texas A&M University has ever done. It won't be the greatest thing for Aggies Football, but that's secondary.
As everyone well knows, my hatred for the Aggies has been strong ever since the 1999 Bonfire collapse. The fact that they could continue such a tradition even unofficially and off-campus is repulsive to me. The fact that the Aggies couldn't recognize that carrying on a "tradition" that killed twelve of their own
over a football game
defied all laws of common sense. In fact, it defies civility in my mind.
I strongly suspect that new Texas A&M president R. Bowen Loftin recognizes that the school he is now running has a terrible national reputation after Bonfire, and if he doesn't act to distance the culture, he may lose generations of national and international students.
Forging a new culture and a new identity is probably one of the best things that ever happened to College Station. I wish them well as they head to the SEC and lose eight games a year. Good luck with Vanderbilt, Aggies.
14.
And the Heisman goes to...?
Ramiro
: LaMichael James. With his support and the Flying V formation for the Oregon Ducks, (Yes! I made my "Mighty Ducks" reference!) you can't lose!
Tray
: Trent Richardson, Alabama. I'm going with the SEC until somebody steps up and proves otherwise.
15.
Who's playing for the national championship? Who's winning?
Ramiro
: Oregon-Boise State! I can always dream! Oregon wins.
Tray
: Just to tie it altogether, I'm going with the SEC until proven otherwise and my surprise team. Alabama-Virginia Tech for the national championship.
And yes, the Tide will roll. Big time.