I was 21-years-old when I first met Coach Barnes. I was an intern for the local sports radio station, and I was asked to operate the mixing boards for his statewide call-in radio show. At the time, the show was being broadcast from a banquet area of a now non-existent steakhouse in south Austin.
Nobody asked him questions while I was there. No one walked up to him in all the time I worked with him to congratulate him or criticize him. Perhaps people were too shy to say anything, but I know one thing for sure: If Mack Brown had a call-in radio show from a steakhouse, people would damned well would grill him like a well-done t-bone. The Burnt Orange Faithful would undoubtedly make Woodward and Bernstein look like
The Chris Farley Show
when it comes to their line of questioning. It goes with the territory and the salary, and I have no doubt Coach Brown knows that.
Perhaps it's more accurate to suggest that no one gave a damn about Texas basketball until Coach Barnes got there. And that's really the greatest compliment anyone can give him. Suddenly, Texas basketball in March has become as routine as Spring Breakers in South Padre and the bluebonnets in Brenham.
Under Coach Barnes' 13-year tenure as head coach, the Longhorns have yet to miss the NCAA Tournament. By way of comparison, North Carolina, one of college basketball's greatest programs has missed the NCAA tournament
twice
in the last ten years. Expectations have been raised significantly and so has his salary. He's now one of only eight college basketball coaches who commands $2 million a season, but has only made the Final Four once and that was almost ten years ago.
He's currently in the same earning fraternity with gentlemen like Florida's Billy Donovan, Connecticut's Jim Calhoun and North Carolina's Roy Williams all of whom have won multiple national championships. Barnes is currently making more money than Michigan State's Tom Izzo who has won a national championship and has been to six Final Fours. Barnes is also earning more than Duke's Mike Krzyzewski, and Krzyzewski may be the greatest college basketball coach alive.
It's not always, and it shouldn't always be about the money, but the reality is that Rick Barnes is making elite-level money and doesn't have anywhere near the resume that his similarly salaried peers have. And he's doing less with more talent than any other coach in the country.
Current NBA scoring leader Kevin Durant was paired with current Charlotte Bobcat PG D.J. Augustin for the 2006-2007 Longhorn basketball season, and could only muster a first round win in the tournament to New Mexico State. They were crushed in the next round by USC 87-68. Durant turned pro almost immediately afterwards.
Since that season, Texas has only made it past the second round of the tournament once despite boasting an impressive four first-round NBA draft picks (Durant, Augustin, Avery Bradley and Damion James). Moreover, it hasn't just been losing early that has been frustrating, it's been the way they lost--the complete lack of fundamentals--that have contributed to these early exits.
Consider, for example, the startling the plunge of the 2009-2010 Longhorn team that was ranked #1 in the country for a time, but then tanked the season and landed in the dreaded 8-9 match-up against Wake Forest. Simply put, this team absolutely could not make a free throw with a gun to its collective head. The 2009-2010 team shot an abysmal 63.3 percent from the free throw line. This ranked them a staggeringly awful 325th in the country that season for that particular statistic. This season Texas "improved" their free throw shooting percentage to 65.4 percent, good for 285th in the country. Both seasons they finished dead last in the Big XII in free throw shooting percentage.
This is compared to the same disappointing 2006-2007 team that shot 73.6 percent from the line, good for 35th in the country.
The following simply cannot be explained away: Free throw shooting, perhaps the most basic and fundamental aspect of basketball, has declined almost a full ten percentage points in four years under Rick Barnes' watch. That is simply inexcusable especially given the depth of talent that Texas has seen over the course of that period of time.
The lack of fundamentals has lead to disappointments like losing that aforementioned game to Wake Forest on an overtime buzzer beater in 2010 after missing two free throws. And it also lead to Arizona outing Texas this year in the second round of the tournament.
Whether or not Cory Joseph's ill-fated timeout was actually made before he committed a five-second violation is moot. Not only did the Longhorns lose the game, but frankly, Joseph should have never gotten that close to a five-second violation in the first place. The fact that such a struggle took place to inbound the ball in a pressure situation again comes down to lack of fundamentals, and further, a lack of execution.
That lack of execution is directly related to a lack of quality coaching. A better scheme should have been in place. And if the better scheme wasn't in place, a better decision could have and should have been made. But it wasn't. Consequently, the 2011 Texas Longhorns season ended with a loss and unnecessary controversy.
But how is all of this possible? It's not as if all of a sudden a man who has won 524 basketball games all of a sudden completely forgot the most fundamental elements of the game. Furthermore, Barnes has won on average 25 games a year at Texas. Let's say that he continues to coach at Texas for another eight years, and averages the same number of wins. He would have 722 wins for his career, good for top 20 all-time in college basketball history. Furthermore, some of the names he would surpass like UTEP's Don Haskins and Louisville's Denny Crum are enshrined in Springfield.
Is it possible that the Longhorns would go out of their way to evict a possible Hall of Famer? Or perhaps a better way to phrase the question: Is Coach Barnes coaching like a Hall of Famer right now?
It would be unfair to say that the program has slid backwards considering that the Longhorns have become a fixture of tournament brackets and office pools every March. But it's perhaps more accurate to say that Texas basketball has plateaued over the course of the last five seasons, and that new ideas and a fresh approach is necessary to advance the program forward to the elite levels that match the talent.
It's not even a rip on Coach Barnes either. Larry Bird wisely ducked out of the Indiana Pacers coaching job after only three seasons. Bird won a Coach of the Year award and was offered an extended contract, but declined stating that three years was long enough. Anything after three years and the players start tuning out the coaches.
The NBA is no question structured differently, but the principle remains the same, and this isn't just true in basketball, but in business as well. Corporate leaders face the ax on a daily basis if they can't reach their employees in an effort to improve their profits and market share. Many well-educated and knowledgeable leaders face termination if the numbers aren't satisfactory and that's not because they all of a sudden forgot fundamental business theories or just blanked on their latest presentations to the stockholders.
Sometimes in life, a new voice is needed to move teams--sports or otherwise--towards a greater direction. It's not to suggest that what the leader before did was bad or flawed. It's just tired. And right now, Coach Barnes is tired. The Longhorns look tired. And losing consistently in the tournament with a higher level of NBA talent than most schools will ever dream of is tired.
I don't doubt for a second that Coach Barnes will be successful elsewhere. He took Texas out of the doldrums of the Tom Penders era, and made Texas a consistent presence in the NCAA Tournament. Texas is now a destination school for elite talent, and that's not something that was the case before Barnes arrived in Austin.
The program has had nary a violation or run-in with the NCAA about much of anything. With the exception of Alexis Wangmene's February 2011 DWI arrest, Texas basketball players have, by and large, remained out of the police blotter.
But that could be said about Duke. Or North Carolina. Both programs have excelled on and off the court and in the classroom as well. In 2010, Duke and North Carolina graduated 92 and 75 percent of their players respectively compared to just Texas' 47 percent. In fact, this is one of the few numbers that the Longhorns have actually improved on during the last five years of Barnes' tenure. Texas basketball's graduation was a paltry 40 percent in 2006 so this has at least been an improvement in some regard.
But it's nowhere close to being good enough. That's why it's time.
It's time for a change in leadership for Texas basketball. It's time for new ideas and a fresh face to emerge in Austin. It's time for March to bleed into April with the Horns still alive in the Final Four. It's time to schedule crawfish boils around net-cutting ceremonies, and it's time for 6th Street to explode with raucous joy not normally seen on a Monday night. It's time for One Shining Moment to be sung by Willie Nelson.
But that time may never come if the status quo doesn't change. For that status quo to change, Texas needs someone already proven, somebody young and somebody willing to build a dynastic legacy in Austin. Texas needs someone that can manage the sometimes dizzying expectations of the school, understands the scrutiny, and can still manage the madness surrounding every March.
One small problem: The best man for the job is still in the tournament right now. And he normally resides in Indianapolis.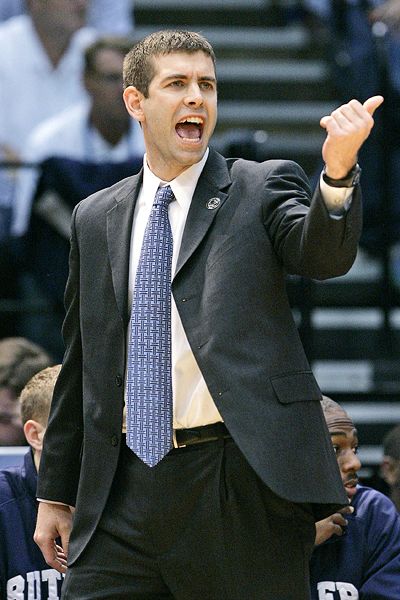 Brad Stevens of Butler has already accomplished more than Rick Barnes at least in one sense. Both have one Final Four under their belt, but Stevens took it one step further in 2010 and made it to the national championship game, losing by a fraction of an inch to Duke 61-59.
He has collected two 30-win seasons in his four-year tenure at Butler, and won't turn 35 years old until October. Butler is back in the Sweet Sixteen again this year after knocking out the #1-seeded Pittsburgh Panthers, marking the second year in a row that Butler has trumped a one-seed in the NCAA tournament.
Unthinkably, Stevens has transformed a tiny school in Indianapolis with an enrollment of only 4,200 into what is likely the best basketball school in a state famous for Bob Knight, Jimmy Chitwood, Larry Bird and John Wooden.
Butler is still competing in the tournament whereas Purdue, Notre Dame and Indiana State all made early exits. The legendary Indiana Hoosiers have become an afterthought and haven't seen the Big Dance in years. The Bulldogs has become The Big Dogs in the state of Indiana, but the question remains: How long can a school with such a tiny enrollment afford to keep him?
Stevens is a native Hoosier, and his contract with Butler extends well into the next decade, but his salary only pays him roughly around $750,000 for the 2009-2010 season. No doubt that's outstanding money for just about anyone, but given the amount of money Longhorn boosters have been known to throw around, it's certainly not inconceivable for them to have Barnes' contract bought out and pay Stevens double what he's currently making now.
Perhaps triple or quadruple his current salary if he can light the tower orange in April.
It's certainly unnerving to so casually toss money around in such flippant ways--a million here, two million there--but the facts are that Texas, as it stands, is vastly overpaying Rick Barnes. The results don't justify the cost. If you're going to spend that kind of money, you might as well at least go after someone who has already accomplished as much, if not more than Barnes has. No one wants to be accused of the being the Yankees of college athletics, but the money is already being spent. It would be wiser economically to invest in someone that is currently delivering more anyway.
And make no mistake, the late John Wooden, who won more championships than any other college coach in history said about Stevens, "I enjoy watching [Stevens] and very much enjoy [Butler's] style of play." President Obama called Stevens after the national championship to congratulate him. Butler, of course, lost that game and the President still thought he did a great job.
If Coach Wooden singled you out for your exemplary coaching job, if the President of the United States wants to talk to you after you
lost
, you're doing something right.
Texas would do right to at least introduce Brad Stevens and his family to the 40 Acres, Zilker Park, bluebonnets, brisket and Shiner Bock. I know he said that he wouldn't leave Butler unless they kicked him out. But Austin has a funny way with people once they get here. They come from all over Texas and the United States, and once they get here, they don't typically leave.
Therefore getting kicked out may not be necessary for Brad Stevens. The same can't be said for Rick Barnes.