This summer, I came out of the closet. I began to admit publicly what only a few of my closest friends knew.
It took a lot of courage coming out. It's not something that every 32-year-old man wants to disclose, especially when he has a burgeoning career and wants to attract a likewise partner.
However, after some prodding from an influential website and some mentoring from fantastic role models, I feel liberated enough to proclaim this truth.
I watch Raw on Monday nights.
I loved pro wrestling when I was a kid, but swore it off when I got to high school, mainly because I wanted to attract girls, and knowing a ton about Bret "The Hitman" Hart and "The Heartbreak Kid" Shawn Michaels wasn't helping my cause.
I denied it again in college when WWF/E was at its apex glory with The Rock, Stone Cold Steve Austin and Triple H were all in their absolute primes. I wanted to be above the fray. Frat guys liked that stuff, and they also liked Matchbox 20 too. That wasn't my scene so i stayed away, and missed the party.
I lived without cable for many years after college so up until about two years ago, I didn't even know wrestling was still on TV. One night after work about a year-and-a-half ago, I sat down to dinner one Monday night during the summer and turned on my Astros. They were in the midst of getting crushed by the Pirates, of all teams, and I quickly grew disgusted. I started impatiently flipping channels just looking to see if there were any other ballgames on in the middle of summer when there's not much else in the world of sports to see.
No ballgames on. I kept clicking.
"Was that The Undertaker?" I asked rhetorically to my apartment walls. "He's still wrestling?"
Indeed he was, and here I was just like I was 11 years old all over again. I was watching the Undertaker walk across the top rope for the Dead Man Walking elbow drop, and then set up some poor sap for the Tombstone pile driver.
One.
Two.
Three.
The Undertaker rolled his eyes back into his skull for the victory. I felt so dirty, but I enjoyed the hell out of watching wrestling again. Certainly more than I enjoyed watching the Astros get their asses handed to them by Pittsburgh. So I kept watching the rest of the night more for nostalgic purposes than anything. I didn't want to admit to myself how much I really liked it.
So I denied it and kept it to myself. But when the Astros were suffering on a Monday night, I knew what to turn over and watch. And when Monday Night Football hit a lull or a bad game, I would flip over to see what was going on.
But I still felt pathetic. I'm in my 30s now. What is any self-respecting man really doing watching two grown men pretend to fight?
Throughout that year, though, Aaron Rodgers unveiled his touchdown celebration, The Imaginary Championship Belt.
I, along with millions of other dorks, embraced it. Here was the best quarterback in the NFL pretty much admitting that he was in on the joke too.
So between Aaron Rodgers' influence, and ESPN's Bill Simmons' new website, Grantland, which devotes a weekly column to pro wrestling, it seemed OK to admit that I loved this when I was a kid, and frankly, I still love it now. It's silly, it's fun and they're more enjoyable to watch than the Astros anyway.
But the more I watched Raw, the more it started to color the way I watch other sports. I started thinking of certain guys as heels (bad guys) and faces (good guys), and who did a better job than others at portraying those characters.
So to that end, here are the five athletes that I've seen who would translate best to the squared circle.
5. Brett Favre
What he would be
: Heel
Who he resembles
: Ric Flair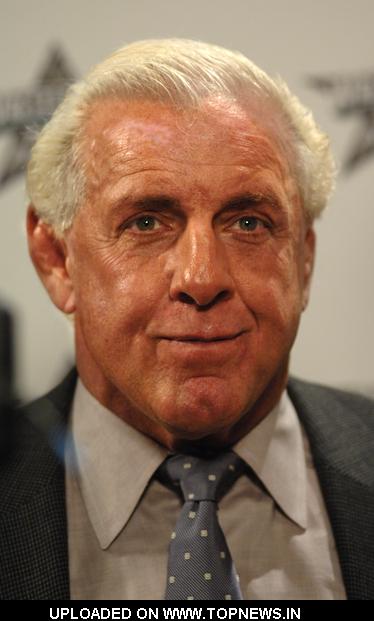 In many ways, Brett Favre
is
Ric Flair. Both are good ol' Southern boys who stuck around for entirely too long. Both appear to have had "performance enhancements" throughout their careers. Flair has admitted to steroid use; Favre had a well-documented painkiller addiction. In addition, although it was never mentioned in the media, Favre did have a very peculiar spike in numbers between 2005-2010 when he was in his late 30s. At an age where most athletes should decline in production, Favre threw 51% fewer interceptions in 2007 than he did in 2005, and his quarterback rating jumped from a
70.9 in 2005 to a 107.2 in 2009
.
Favre was actually playing the position
better
at 40 than he was at 35. Perhaps that's because just like every great heel, he might have been using a foreign object to beat his opponent while the referee's back was turned.
Favre and Flair both also seemed to be quite pleased with showing off their crowned jewels. In 2010, Favre's penis was famously captured on his cell phone pictures to Jets reporter Jenn Sterger. In May 2002, Flair was caught "
spinning
" his willie on a European flight, and the WWE was sued as a result.
But both are undisputed legends of their craft, and any discussion of the greatest of all-time in their respective sports will always include Brett Favre and Ric Flair, no matter how pathetic they may seem.
WOO!
4. Shaquille O'Neal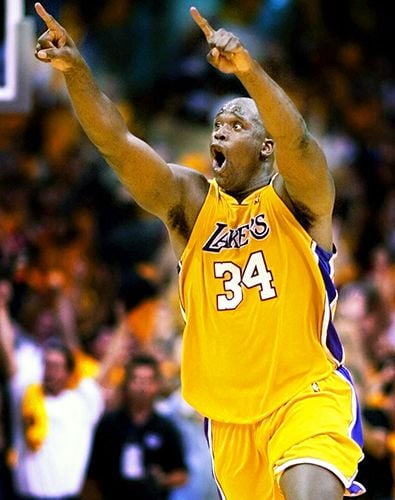 What he would be
: Face
Who he resembles
: Andre The Giant
Even when Andre The Giant was a heel, and was squaring off against Hulk Hogan in Wrestlemania III,
everybody
loved him anyway. By all accounts, he was one of the funniest and best guys to be around in the business, and parlayed his good nature into a memorable film role as Fezzik, the lovable ogre, in
The
Princess Bride
.
Shaq never made a movie as good or as memorable as
The Princess Bride
. Hell, Andre might have been a better thespian as well because frankly, Shaq was a terrible actor (scroll to about 2:35).
But Shaq, much like Andre, was so revered by those in the sports and entertainment community, that even when he was playing the heel role and leaving the Lakers to win a title in Miami, no one could stay mad at him. He was just too good of a guy, and everyone had a great time around him.
Both were huge men with larger than life personalities. The major difference between the two, though? One broke backboards in his prime. The other broke
drinking records
.
3. Danica Patrick

What she would be
: Heel
Who she resembles
: Chyna
Neither one are particularly attractive, although Danica actually looks like a woman compared to Chyna. Chyna looks like something from the
Rocky Horror Picture Show
, to be honest.
However, both succeeded in a man's world to a certain extent. Danica is considered a mainstream driver in NASCAR. Although she's nowhere near on par with Jimmie Johnson or Kyle Busch in terms of victories or overall success, she is perhaps the most well-marketed NASCAR driver, especially as a result of her GoDaddy.com commercials.
Chyna's run coincided with the WWE/F's golden age in the late 1990s-early 2000s, and just like Danica Patrick, she could hang with the big boys. She won the Intercontinental Title twice, was actually the #1 contender for the title in 1999. That same year, she won the
Royal Rumble
.
One could rather easily argue that Chyna, in her brief four-year run with WWE was way more successful than Danica Patrick has been in her whole career in Indy Car/NASCAR. But this is less about success and more about resemblance, and Danica stands out like Chyna for her willingness to compete in a male-dominated field, and succeed to a respectable degree.
Danica, however, gets the heel tag here for her constant provocation of fights,
snapping towels at people
, running over her
pit crew
, and generally acting like a pain in the ass.
However, there's no question as to who I would rather see in a
sex tape
. (Hint: Not Chyna)
2. LeBron James
What he would be
: Heel
Who he resembles
: Chris Jericho
It would be asinine to suggest that either LBJ or Y2J's careers have been failures. Far from it, in fact. LeBron has made two NBA Finals appearances, won the MVP twice and won a scoring title. Jericho won the Intercontinental title a record nine times, held the World Heavyweight belt three times and became the first-ever undisputed championship in WWE/F history.
LeBron James is one of the most visible athletes in the world. His Nike marketing campaign has made him one of the world's most recognized athletes. Chris Jericho is one of the most visible wrestlers in the world. Between emceeing the game show
Downfall
on ABC, hosting VH1's
100 Most Shocking Music Moments,
and his stint on
Dancing With The Stars
, Chris Jericho is one of the world's most recognized wrestlers.
But absolute greatness has eluded the both of them. Until LeBron James wins an NBA title, he will always live in the shadows of Kobe Bryant and his teammate Dwyane Wade. Everyone is free to acknowledge his God-given talents but even with the marketing campaigns and all the promise that he had coming into the NBA, LeBron James hasn't quite delivered despite his impressive resume.
Much like LeBron James' craves acceptance in the post-basketball arena, for Chris Jericho, it won't matter how well he does on
Dancing With The Stars
. He'll never be as big as Dwayne "The Rock" Johnson. Jericho is hosting VH1 specials and appearing on reality television shows. The Rock is appearing in
blockbuster films
, and his last major hit,
Fast Five
, grossed $209,805,005 as of August 2011.
Both entered their respective leagues, lauded as the good guys. Jericho entered the WWF/E in 1999 and was supposed to content for the title the same way The Rock did.
LeBron James entered the NBA in 2003, and promised to
bring a championship
home to his home state of Ohio.
Both turned their back on the fans and embraced the heel role. But both have never really lived up to their potential. And that's what makes them all the more interesting.
1. Aaron Rodgers
What he would be
: Face
Who he resembles
: The Rock
We end the way we began. Aaron Rodgers first stepped up in 2008 and beat the evil Brett Favre for the Green Bay starting job in a Loser Leaves Town match. Then this year, his Packers defeated the Michael Vick-led Philadelphia Eagles in the playoffs en route to Super Bowl XLV where he crushed the villainous two-time champion Ben "The Rapistberger" Roethlisberger in Super Bowl XLV. After that victory, he didn't just become a Super Bowl champion. By virtue of defeating Brett Favre, the Canine Hannibal Lecter and Rapistberger, he became the People's Champion as well.
Similar to The Rock, everyone seems to love Aaron Rodgers. Year after year, Rodgers plays not just for the Green Bay Packers, but he also plays for the People on Team Bring It.
Judging by his fantasy numbers and Packers victories, it's safe to say that he certainly does Bring It.